Q: IS HIRING A PROFESSIONAL SPEAKER EXPENSIVE?
A: It doesn't have to be -- it just depends on what you are looking for. Each speaker sets his or her own prices, based on professional EXPERIENCE, the kind of talk, and the LENGTH of the engagement. Of course, hiring a local presenter to put on a one-hour "lunch and learn" will cost less than hiring a nationally-renowned speaker to present a full-day workshop at your trade conference. And if you choose to hire a speaker who is based out of another state, you can expect to pay for TRAVEL expenses in addition to the speaking fee. Unless you hire a speaker for a flat fee – you might get stuck with thousands of dollars in hidden fees. Check out my free report on "How To Avoid Getting Stuck With Thousands Of Dollars Of Hidden Speaker Fees."
Q: WHEN WOULD I HIRE A SPEAKER?
A: People hire speakers for many different occasions. You might want to put together a TRAINING program for your staff at work, or a workshop for your Wednesday night civic group. You may need a keynote for a luncheon, or be interested in a series of SEMINARS for a convention. Any time that you want expert advice delivered in an entertaining and informative fashion, a professional speaker would certainly fit the bill. If you want a Keynote or Inspirational speaker to open or close a meeting for your company.
Keynote and inspirational, motivational speakers can present on a wide variety of topics.
Q: WHAT KINDS OF TOPICS CAN I CHOOSE FROM?
A: The type of topics you can choose from vary as many as there are professional speakers. Many speakers have an idea of what they want.
Einstein said, you cannot solve the problem from the same level of thinking that created it. Many times, organizers can actually ask speakers what they think would most benefit their company or organization.
The speaker will often look at your website, ask you a few questions, and thinking from a different perspective, recommend the perfect talk for you. Often the topic will make complete sense when you hear it, even though you may not have thought about it.
If you would like a proposal from me, Dr. Jamie, simply email me what you are looking for, and I will create what I think is the perfect presentation for what you are looking for. Jamie (at) Nitty-Gritty-Guy.com
Q: HOW DO I FIND A SPEAKER?
A: There are a few ways:
Search for speakers or topics on the internet and look through the results you find.
Go to speaker Bureaus and have them look for you.
Go to places like www.speakermatch.com – submit a proposal, and let all the speakers send you their best stuff.
Ask around for a referral of someone who recently hired a presenter
Each has their pros and cons. Which is best for you will depend on your budget, time frame, topic area wanted, etc.
Again, feel free to email me and I can help you figure out the easiest and best way to go about hiring a speaker.
Q: WHAT IF THERE AREN'T ANY SPEAKERS IN MY AREA?
A: Then hiring a speaker from out of area would be your best bet. Many speakers will speak for a flat fee. So you do not have to worry about how much their travel expenses will be. Make sure you don't sign a contract that could stick you with thousands of dollars in hidden fees after the presentation.
Q: ARE YOU AVAILABLE INTERNATIONALLY?
A: YES
Q: CAN I REQUEST A CUSTOMIZED TALK?
A: Yes, I will send you a quesionare about your company and needs. Then I will use that information to create a customized funshop that is TAILORED to your particular needs. And most of the funshops I offer can be adjusted to whatever length presentation suits you -- from one hour to several days.
Q: HOW DO I KNOW YOU ARE "QUALIFIED"?
A: Check out my Bio Here
Q: HOW DO I SELECT A SPEAKER?
A: The first rule of thumb is to hire a speaker whose STYLE compliments your own -- are you looking for someone who is serious or funny? Ultra-professional or just like the people in your audience? Finally, trust your INSTINCTS. If you have good (or bad) feelings about the person, make your choice accordingly.
I also have a list of questions that you should ask any speaker before you hire them. If you do not like their answers, find someone else. The list of Questions You Should Ask Every Speaker BEFORE Hiring Them to Save Yourself A Lot of Time and Money can be downloaded here
Q: WHY DO YOU CHARGE THE FEES YOU DO?
A: Speaking is a PROFESSIONAL service -- just like you would receive from an attorney or an accountant or a coach. You are paying for their KNOWLEDGE, but also their ability to motivate and inspire you, as the listener, to go out and improve your life.
What most people don't realize is it is not just for the hour talk.
It includes everything.
See, my fee starts when I step out the door and away from my family.
I order for me to get to your meeting – from Denver to you – travel time, set up
time, connecting time. My fee doesn't end until I get back home.
It is going to be about 2 days of my life.
It is Usually 48 hours of time from a to z on average.
Take out a pen, I want to show you something.
Well, if you divide that 36 hours by me most expensive fee, subtract out my expenses – it comes out to $150 dollars an hour. That is actually less than what I made in private practice as a doctor.
Plus, Have you ever been flying and stuck in an airport?
And it was just awful, and then your circling in the air, your are tired and exhausted.
That doesn't even include the prep-time – Power points, questionnaire, researching,
That is also before taxes.
Q: WHAT ARE YOUR SPEAKING FEES?
A:My Speaking Fees:
Free to $10,000 – depending on:
How long the presentation/training is
Where the presentation is (ND, CO, and Sunny Locations are Cheaper)
If expenses are paid (Fees are less)
If I can offer continuing education products (Fees are less)
If block booking is available (Fees are less)
If you are willing to promote me, the fee can be less
How many people will be attending
If you charge a door fee to the participants, the fee can be less.
Plus - Ask me how to get Free Books for your attendees
Every situation is different.
Call and we can discuss your specific situation.
Q: DO YOU DO "PRODUCT PITCHES" FROM THE STAGE?
A: I do not spend all this time doing product pitches, taking time away from the actual speech. So instead, I will do the full 60 minutes, but in return as a favor to me when everyone is done clapping will you get up and read this little part (I will give you a short script) then I will hop up and quickly tell them about my products. But I won't do it during the speech, I will do it when we are done.

Q: HOW DO I CONTACT YOU?
A: Call me at 773-665-4005 or email me – Jamie (at) Nitty-Gritty-Guy.com
Q: HOW DO I REQUEST YOU FOR SOMEONE ELSE?
A: That's no problem -- just be sure to give me the contact information for the PERSON who will be setting up the speaking engagement. So if you are requesting a speaker -- but your Human Resources director (or someone else) is in charge of scheduling -- let us know how to get in touch with that person. It might also be nice if you let them KNOW you are doing this (so they know what is going on when I contact them!)
Q: WHY SHOULD I USE YOU?
A: You could pick a name at RANDOM from a listing in the phone book or on the internet – go through speaker bureaus who have a limited selection of speakers, but how will you know what kinds of talks they give? Or what their qualifications are? Or how long they've been in business? You don't.
Plus, do they have a guarantee? I do
Dr. Jamie's 300% Guarantee
I personally 100% Guarantee your attendees will thank you as the organizer for bringing me in and they will tell you it was one of the best presentations they have ever seen.

I personally 100% Guarantee to not only provide motivation and inspiration, but Simple, Easy, action steps anyone can take to immediately begin making a difference

I personally 100% Guarantee the presentation will be so good, the first person you think of for booking your next event will be me.

Jamie (at) Nitty-Gritty-Guy.com
1-773-665-4005
1-800-615-7606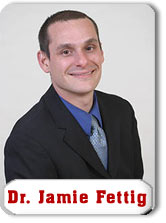 P.S. If you have any questions, feel free to call or email. Even if I am not the perfect presenter, I will help you find someone who is and make your event a Success.